Data pubblicazione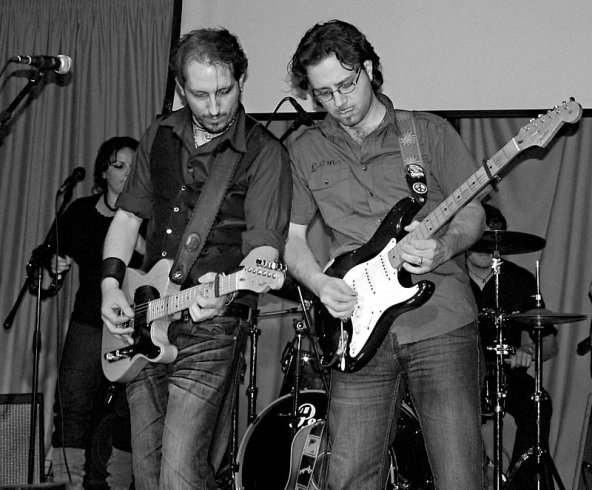 Fabio Melis & Damiano Minucci - THE E STREETS OF FIRE, Tributo a Bruce Springsteen & The E Street Band di Roma.
Eccoci qui a scrivere, anche se un pò in ritardo.. dell'ultimo Show della band in quel di Corridonia (MC) dove abbiamo trovato una bella accoglienza e il solito calore dei Fans Springsteeniani! Serata che si preannunciava non senza qualche difficoltà in quanto il nostro Steve Marco Melis era stato messo fuori gioco da una tendinite a due giorni dal concerto! E' venuto in nostro soccorso l'ottimo Damiano Minucci (che non finiremo mai di ringraziare abbastanza) che senza neanche una prova e con in mano una sola e-mail in cui si specificavano Pezzi, Tonalità e assegnazione parti.. non ha sbagliato praticamente niente e anzi, ha contribuito al Sound della band in maniera egregia! Bello il momento sul finale di Prove It All Night in cui Lui e Fabio Melis hanno riproposto lo scambio di assoli tra Bruce e Steve visto a San Siro!
The E Streets Of Fire
01. The Price You Pay
02. Downbound Train
03. Prove It All Night
04. Night
05. Atlantic City
06. Spirit In The Night
07. Rosalita
08. Hungry Heart
09. The River
10. I'm On Fire
11. The Wrestler
12. Because The Night
13. Born To Run
14. Lucky Town
15. I'm Goin' Down
16. Paradise By The "C"
17. Born In The U.S.A.
18. American Land
19. Dancing In The Dark
# Damiano Minucci played Steve's guitar lines in all tracks.
...Caricamento delle foto in corso, attendere...